I recently read one of the best articles on this subject by Dr. Chuck Lawless on ThomRainer.com. So take a look. And now, let's add some comments directed to women's ministry.
1. Follow up with correspondence to clarify expectations.
My first experience as a women's leader making arrangements for an event with a speaker, I blew it big time in this area. As we sat at the table having dinner before our speaker was to present, she said, "now what did you want me to talk about tonight?" I really thought I'd been clear since I've given her the topic when I first contacted her. I never followed up in writing at all and that was my fault. The attendees felt somewhat deceived since she did not address what we'd advertised. I definitely learned a life lesson with this experience. After that I followed up numerous times with each speaker to make sure she and I were on the same page!
2. Ask about honorarium and expenses up front.
Some speakers have set fees, others do not. The only way you will know is to ask! She expects you to and you will know right away if this is within your budget from the beginning. Some speakers are willing to negotiate as well, so be sure to let her know if you need to that if you only have a certain amount budgeted for an honorarium.
3. Contact the speaker directly to contextualize the assignment.
Help your speaker understand your church, your community and the women in your ministry. Let her know the vision you have for her coming. Share your theme or goal. That will help her know if this is a place God would have her speak. Once I was asked to speak to a women's group and when I asked the purpose, she had no idea. Needless to say, I felt that was not where I needed to be.
4. Provide a specific point person.
Some speakers have an agency or assistant who will be your main contact. Helping that person know the one person they can get in touch with for questions and follow-up is so much easier than making them contact different people for various aspects of the event (airport pick up, AV needs, topic, etc.).
5. Offer a choice of lodging.
Staying in homes is wonderful, but when a speaker is trying to prepare spiritually and study for her message, she needs alone time. Sharing a room with a child or a bathroom with multiple people is usually not best. Ask what she prefers. Personally, I prefer a hotel or a very private place where I can focus, and get my heart in the right place to share God's message.
6. Invite her spouse to come.
You say so much to the spouse when you offer to cover expenses for him to accompany your speaker. Often my husband will drive me to an event, allowing me car time to study and prepare. And then I have the opportunity to have time with him as well. Most of the time I'm getting on an airplanes after he drops me off at the airport. What a treat to be told ahead of time he would be welcome as well.
7. Send prayer cards prior to the speaker's arrival.
I cannot tell you how much it means to us as speaker to know that the event, the speaker, the attendees and all aspects of the event have been bathed in prayer. Often a speaker may be facing some stressful or even difficult times as they prepare. To have others praying for God to give her His message and prepare her as she speaks says so much. Often I can tell when I walk into an event that has been prayed over. I can almost sense whether or not God is in charge of the meeting or if the leaders are.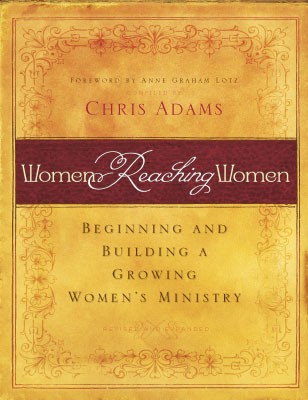 Read part 2.
---
Women Reaching Women is a helpful resource for preparing to host speakers.
---
Chris Adams is senior lead women's ministry specialist at LifeWay Christian Resources in Nashville, Tenn. Learn more about Chris here.