In Experiencing God, Henry Blackaby says we cannot stay where we are and go with God. In other words, our relationship with Him must constantly change, grow, and move forward. In women's ministry this means we must be willing to obey God's calling to develop opportunities for service and growth, even if "we have never done it that way before."
So, what things should we consider when God leads us to begin a women's ministry? Communicating a vision for women's ministry to your church leadership and staff is one vitally important step. Here are several tips to help you prepare for that time:
1. Be specific. Consider presenting a one-page proposal that lists goals and objectives for consideration.
2. Be respectful. Remember that it is your responsibility to contribute a female point of view to what may be an all-male staff.
3. Let the staff know that women's ministry is available to assist and help in all programs of the church.
4. Know and obey church policies concerning facilities, childcare, and publicity.
5. Listen to the staff. Ask their perspectives and expectations of women's ministry and their advice as you begin planning. Take interest in their areas of ministry. Learn from them. Consider asking, "What can I do to undergird your area of ministry?"
6. Understand the process, if you attend a staff meeting. Ask questions ahead of time to understand what is expected during these meetings.
7. Choose the right time to address the pastor or staff. Ask for an appointment that allows the time you will need. Try giving back the last five minutes of that time. Your staff will appreciate that unexpected gift! You might even send a written list of questions ahead of time for their consideration.
8. Take a short list of issues to discuss. Remember to get to the bottom line quickly. A church staff 's plate is full already. Try not to add more information than is necessary by giving details they do not need.
9. Turn in calendars early so the women's activities will not conflict with other church functions.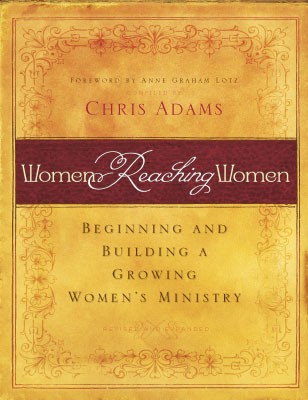 10. Ask the pastor's wife and/or other staff wives to serve as an advisor on your team. She can contribute her unique perspective on various issues, but do not expect her to attend or be involved in everything your women's ministry is planning.
11. Women's ministry exists to build up and enrich the church. If whatever you desire to do will hinder the church in any way — drop your plan!
This article is excerpted from Women Reaching Women: Beginning and Building a Growing Women's Ministry compiled by Chris Adams.
---
Chris Adams is senior lead women's ministry specialist at LifeWay Christian Resources in Nashville, Tenn. Learn more about Chris here.