Recently we expanded and revised our leadership resource Women Reaching Women in Crisis. As I re-read the chapters, I was reminded of why we developed this resource years ago. Lay leaders are not trained counselors!
This is a lesson I learned early in ministry when women came to my office with huge crises. I felt totally unprepared to know how to help or even if I should help. The first thing I did was head straight to the office of one of our pastors who did quite a bit of counseling. I asked his advice, and he gave me some great pointers on how to handle similar situations in the future.
As women's leaders we want to help women who have hurts. But sometimes we just do not have the skill or expertise to counsel well. In fact, if we aren't prepared, we could do more harm than good.
How do you know when to help? How do you know when it's beyond your abilities? Let me share with you some ideas from Women Reaching Women in Crisis on when to refer to others for help:
If the time it will take to minister to her is more than you have.
If her needs are beyond your emotional resources.
If you just do not have the energy to help.
If you just do not have the expertise it will take to help her.
If your care for her promotes dependence on you.
If you have a dual relationship with her. For instance, if she is in your Sunday morning women's small group. It might be better for you to connect her with someone she is not as closely related to.
If she appears to be getting worse rather than better.
If she becomes a threat to herself or others.
If personality difference make it difficult for you to have a positive influence in her life.
If the spiritual issues involved are beyond your understanding.
Know who on your church staff and who in the community to refer women to if you are unable to help. Do not bear the burden of counseling women by yourself even if you are the women's leader in your church. Know you limitations and do not hesitate to ask for help when needed.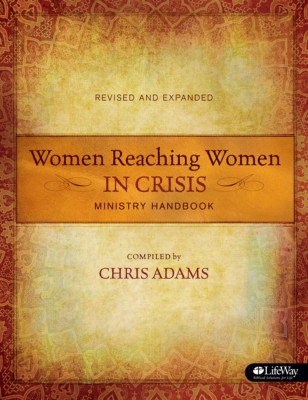 Women Reaching Women in Crisis is designed to help leaders (or any woman) know how to assist women in pain or how to refer them to others if they don't have the ability to help. The specific crisis issues in this handbook include prodigal children, domestic violence and spousal abuse, substance abuse, depression, sexual addiction, post-abortion trauma, and infertility.